Canvas prints - Banksy
Banksy is a contemporary artist who chooses the walls of buildings, walls, and public spaces as "canvas" for his works. This makes it impossible to confine him to the four walls of a gallery and make classic reproductions of his paintings. Many of his works are liquidated very quickly. Therefore, we know them only thanks to the photographs taken right away when the work was finished.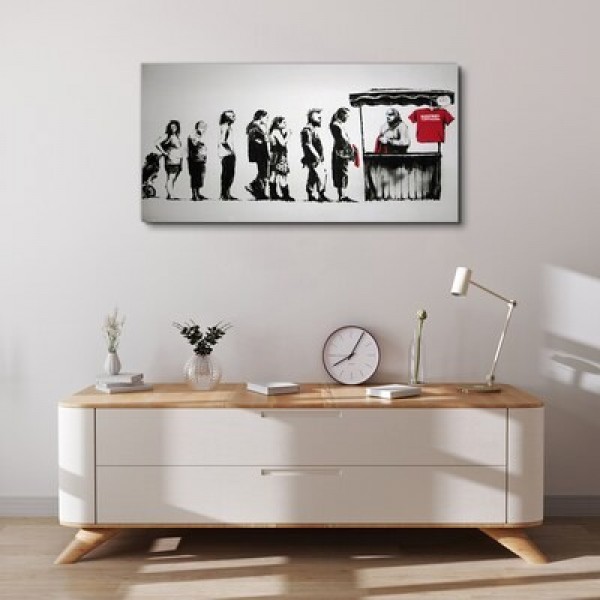 Banksy - wall decorations with the meaning
Banksy is certainly an artist who is difficult to place in a specific framework. On the one hand, his work is shown in museums and is present in academic discourse. On the other hand, it is very close to graffiti, and actually any of us can create on a wall or a building. What sets it apart, however, is that it tackles difficult subjects, related to pop culture, consumerism, wars, freedom, and everything we face in the modern world. Banksy's work will appeal to all those people who like committed art, not just pretty pictures that you can hang on the wall. His paintings are often used by young people who are looking for a way to express their attitude towards the world and to oppose what happens to us in the surrounding world.
Many young people speak the Banksy language. Paintings with a rat or a girl with a balloon have already become part of the public consciousness.
Banksy - paintings on canvas
As we have already mentioned, Banksy's works are mostly available only as reproductions because he creates his art on walls. Therefore, we offer canvas prints. These are of excellent quality and have a fresh, modern look that goes well with Banksy's modern illustrations.
Also, check the Banksy's artwork reproductions on glass.