Rectangular mirrors
Experience the blend of functionality and style with our selection of rectangular mirrors. With options ranging from unframed for a sleek, modern look to black or white-framed for added contrast and elegance, and LED-lit for practical illumination, our mirrors cater to every taste and decor need. These mirrors not only reflect your style but also create an illusion of space, brightening up your rooms. Opt for our rectangular mirrors and introduce an element of sophisticated design to your interiors, transforming them into brighter, more spacious, and elegant spaces.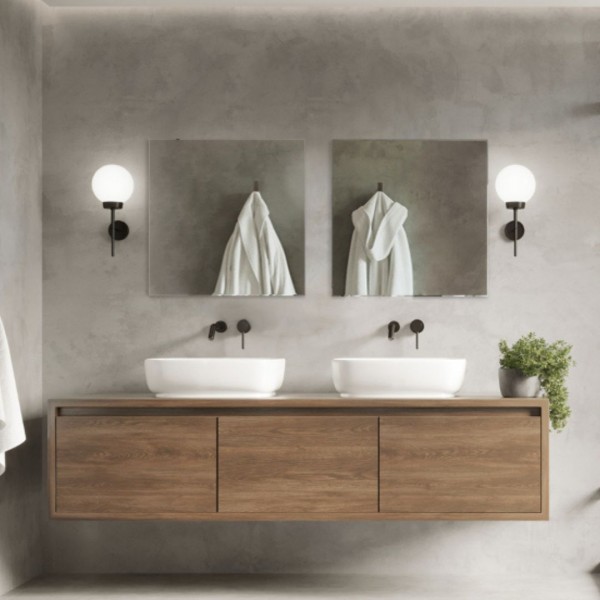 Immerse yourself in our selection of rectangular mirrors, where minimalism meets modern elegance. Our rectangular mirrors, available in unframed, black-framed, white-framed, and LED-lit variations, are the perfect blend of functionality and aesthetic charm. These mirrors contribute to creating an illusion of spaciousness while reflecting the beautiful ambiance of your rooms.
Unframed rectangular mirrors are the epitome of sleek, modern design. These mirrors perfectly complement any contemporary decor, adding depth and enhancing natural light. Without a frame, the mirror seamlessly blends into your space, creating a clean, minimalist aesthetic.
Our black-framed rectangular mirrors add a dash of sophistication and a dramatic touch to any room. The stark black frame offers an excellent contrast, allowing the mirror to become a standout piece in your decor. It's the perfect addition for those looking to create a bold, modern statement.
White-framed rectangular mirrors bring a fresh, serene vibe to your room. The crisp, clean white frame provides a calming influence and perfectly complements a wide range of decor styles. This mirror serves as a beacon of light, making any space appear brighter and more spacious.
Step up your decor game with our LED rectangular mirrors. These mirrors not only offer you clear, bright reflections but also come with energy-efficient LED lighting. Perfect for tasks like applying makeup or shaving, our LED mirrors enhance your daily routine while adding an enchanting ambiance to your space.
Rediscover your space with our rectangular mirrors. Whether you prefer the minimalist look of an unframed mirror, the bold statement of a black-framed one, the serene charm of a white-framed mirror, or the practical illumination of an LED mirror, our collection caters to all your needs. Bring home a rectangular mirror today, and step into a brighter, more spacious world.