Concrete wallpapers
Concrete may seem cold and unpleasant at first glance, but it is able to create an amazing effect that will complement any interior. However, laying the concrete is extremely tedious. That is why we decided to recreate the most beautiful possibilities of using architectural concrete on our wallpapers so that you can enjoy its beauty in a few moments.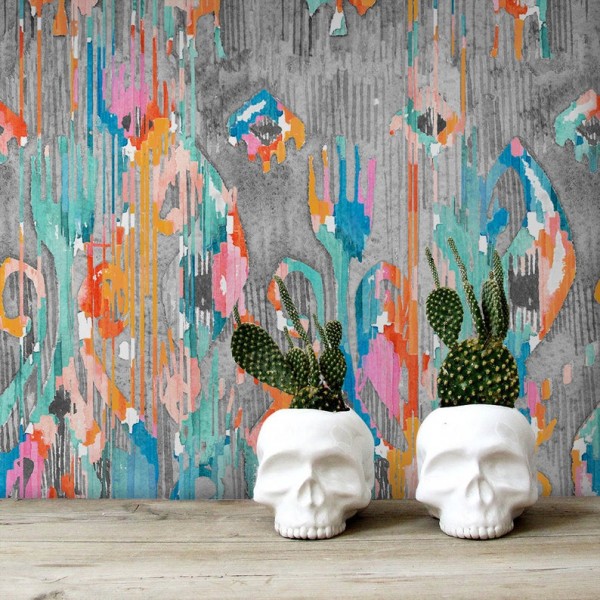 Modern
Japanese
Vintage
Retro
Boho
Contemporary
Abstract
Industrial
Minimalist
Rustic
see all
Ethnic
French
Art deco
Wall murals in concrete, raw shades
In our offer you will find amazing wallpapers using the architectural concrete pattern that creates an amazing, marbled mosaic filled with colors of gray, blue and green. Such wallpapers are perfect for modern, loft and minimalist apartments. On the other hand, the characteristic wallpapers with the motif of dirty concrete, smeared with paint, will be great in interiors where people with an artistic soul live, because they will reflect their extraordinary nature. Such wallpaper will work beautifully in the living room, office or studio. On the other hand, Wallpapers with raw concrete enriched with architectural elements taken straight from the architect's sketchbooks will work well with himself.
Original wallpapers with a concrete theme and color
They will be the perfect complement to an architectural office that will attract customers' eyes and be remembered for a long time. We offer our wallpapers in two technologies - classic glued wallpaper and MagicStick technology, which allows you to unstick wallpaper and move it to another place. Thanks to this, you can take your wallpaper to any other place, even changing the apartment. Therefore, do not hesitate and order today an unusual wallpaper that will captivate all your friends!