Exclusive designer wallpapers for home interiors
Removable wallpaper is trending and modern interior decoration. The main advantages of removable wallpapers include quick and trouble-free installation and an unlimited selection of designs and colors. The material from which our self-adhesive wallpapers are made is resistant to moisture, dirt and tears. With proper use, the wallpaper will serve you for several years.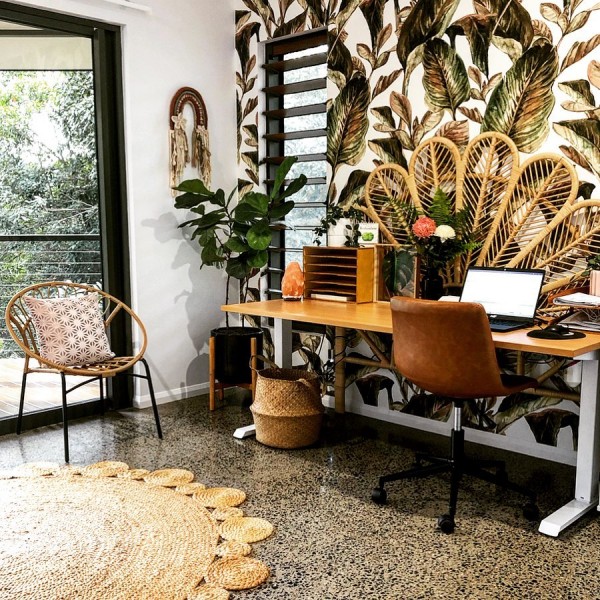 French
Abstract
Victorian
Glamour
Rustic
Eclectic
Provencal
Shabby Chic
Modern
English
see all
Scandinavian
Boho
Japanese
Contemporary
Industrial
Vintage
Ethnic
Colonial
Oriental
Retro
Country
Art deco
Minimalist
Classic
Baroque
Exclusive designer wallpapers for home interiors
Which wallpapers suit the living room and which bedroom?
In the living room, wallpapers with botanical motifs, e.g. leaves, monstera or banana tree will work. Simple, geometric patterns such as triangles, squares, circles and stripes will also be a good idea. In the bedroom, large, watercolor flower buds or wallpaper with a meadow motif look beautiful. For the bathroom, we definitely recommend delicate patterns in contrasting colors and floral compositions. Intense colors and pastels that break the harsh interior mood will work well in the kitchen. A home office is a place where should be plenty of greenery. Take care of your sight and rest, choose wallpapers with the motif of spreading leaves.
What wallpapers are best for a child's room?
A child's room is a place where you can vent your creative imagination! In the children's room, Scandinavian forest motifs, watercolor flowers, colorful meadows and cars, as well as space galaxies will be an ideal idea. For the boy's room, it is worth choosing subdued colors, for the girl's room intense colors and pastel flowers. If you want to remain neutral, choose delicate pastels and self-adhesive wallpapers in light tones.