Canvas prints - Van Gogh
Van Gogh was a painter who was very much influenced by impressionism. He is an artist with a tragic story who gained the fame he deserved after his death. His famous paintings such as "Sunflowers" are characterized by vivid colors, but he did not always use a bright and vibrant color palette. Especially at the beginning of his career, he mainly used dark shades and earthy colors.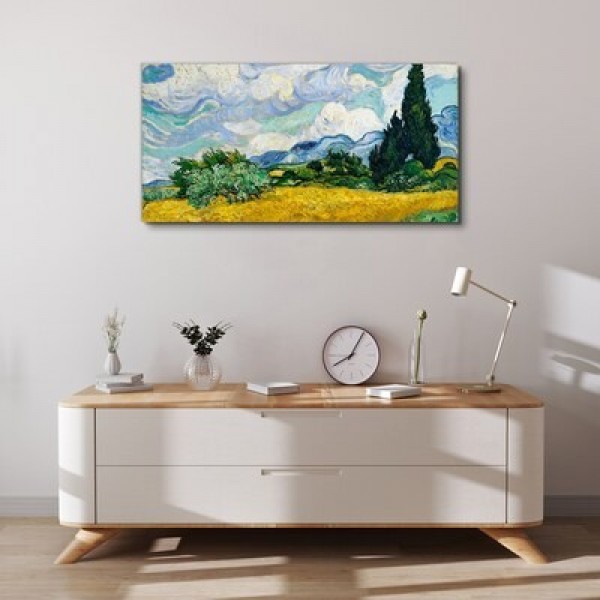 Reproductions of Van Gogh's works in your home
Communing with a great culture is very important to many people. Apart from visiting galleries or browsing through albums, it is also worth being surrounded by art. We bet on printed paintings. Van Gogh is an artist who finds many admirers. He undertook a wide range of themes, so in our gallery you will find darkened streets, still life, landscapes, and famous self-portraits. Van Gogh struggled with mental problems for most of his life which is reflected in many of his works. His paintings do not leave the viewer indifferent. Therefore, they are an excellent choice for those people who like to decorate the walls of their home with paintings that have a deeper meaning. Van Gogh's paintings engage the viewer, make us look at their texture, light, and colors. It is worth taking a moment and, apart from the most famous paintings, pay also attention to the less popular ones.
Printed paintings - Van Gogh
We offer reproductions of Van Gogh paintings printed on canvas. Our painting form is different from classic works because it is devoid of a traditional frame. Thanks to this, the artwork looks more modern and at the same time gives the impression of contact with real art. If you are interested in Van Gogh, the paintings in our realizations will surely appeal to you. Saturation of colors and reproduction of details is excellent.
Also, check Van Gogh reproductions on glass.