Floral wallpapers
Floral wallpapers are a modern and fashionable solution used in interior decoration. They have become a useful tool used by many designers. A well-chosen wallpaper pattern can bring a slightly warmer atmosphere to the cold interior, a lot of beautiful details into a boring room, and can also transform a cavernous space into an intimate place of seclusion.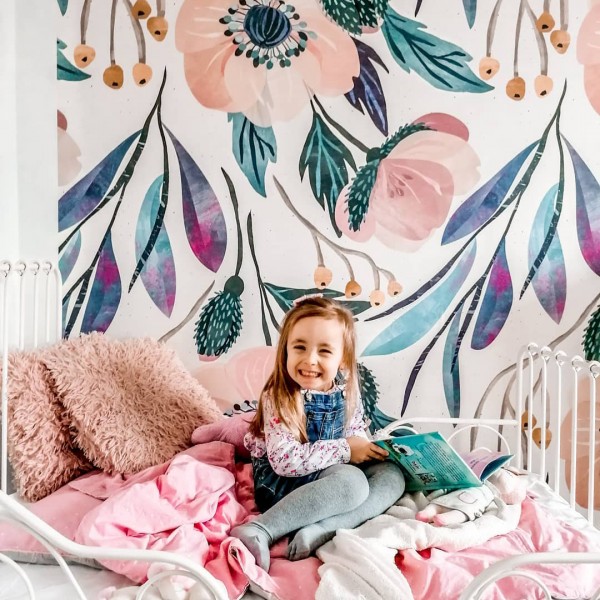 Retro
Oriental
Country
Art deco
Minimalist
Classic
Baroque
French
Abstract
Glamour
see all
Victorian
Eclectic
Rustic
Shabby Chic
Scandinavian
Provencal
English
Boho
Modern
Contemporary
Japanese
Vintage
Ethnic
Colonial
Among the wide range of colors and motives of our wallpapers, self-adhesive floral wallpapers lead the way. These fantastic works of nature, which delight us with their unusual forms, countless colors and wonderful aromas, have become an ideal model for creating a variety of decorative elements. They have been a part of interior design for centuries - they decorated walls, floors, ceilings and fabrics. In modern times, little has changed in this topic. Flowers can be found fresh, painted or in other forms everywhere. Thanks to our modern and original method,
you can easily and quickly create an amazing garden in your home, or feel in it as a meadow full of blooming buds
. All you have to do is to choose a perfect design for your room from our wide range of removable floral wallpapers. Peel and stick floral wallpapers give the chance to decorate the walls with floral patterns, just like artistic frescoes. Among the amazing and elegant motives you'll find e.g.
romantic roses
,
elegant bouquets
,
rich baroque arrangements of peonies and royal dahlias
. Our graphic designers created floral wall murals following the latest trends in interior design, so everyone will find something suitable and fashionable for themselves.
Bet on modernity and originality during the transformation of home comfort. Give the rooms a unique character thanks to the wonderful and interesting floral designs.
Removable floral wallpapers are a modern and innovative solution for your room
. This is one of the easiest ways
to transform a living room
,
bedroom
, hallway and
child's room
. Thanks to its unique design - the use of water-resistant material - you can also decorate the
bathroom
and
kitchen
with them. The advantage of our floral wall murals is also their ease of installation. You won't use a single gram of glue when applying them! The self-adhesive material allows you to peel off and stick the wallpaper multiple times - without damaging the wall.
Peel and stick floral wallpapers
will be a great background for furnishings and decorations preserved in different styles. They will become a distinct interior ornament or a unique accent emphasizing the overall arrangement. As a result, they will lead to the creation of a perfect interior to suit our tastes.