Cactus wallpapers
When you hear the cactus - you see the characteristic outline that immediately reminds you of Mexico and the boundless deserts of Arizona. However, cacti are a whole family of succulents that combines almost two thousand different species! They differ in size, shape and color. And what's more - they occur all over South America, most of North America and ... in Africa!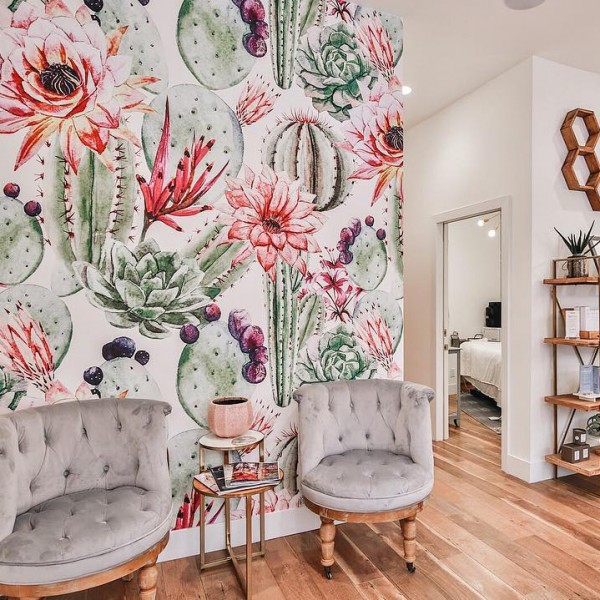 Classic
Rustic
Abstract
English
Retro
Scandinavian
Minimalist
Provencal
Industrial
Country
see all
Ethnic
Shabby Chic
Vintage
Art deco
Oriental
Boho
Contemporary
Modern
Colonial
Eclectic
Cactus wallpapers - not just one pattern
Our wallpapers inspired by the whole family of cacti do not focus only on one - the most commonly associated pattern, quite the opposite! We took full handfuls of every possible species. Thanks to this, among our wallpapers you can find those with delicate pastel cacti in a comic installment, which will be great for children's rooms - their delicate colors will not overwhelm the child and a delicate line will give the interior a pleasant character. We also offer wallpapers inspired by ethnic patterns - combining the motifs of a cactus and Mexican beliefs or Indian tribal characters, which are great for an interior inspired by ethnic style. However, for those who love the boho style, we recommend wallpapers inspired by flowering cacti, showing realistically reflected cactus flowers.
Cactus wallpapers - repetitive motifs
Among our wallpapers, we have wallpapers with repetitive motifs that create a uniform pattern all over the wall. It is a classic solution that will work in any interior. However, for people who prefer an unusual solution we recommend wallpapers that create one - a unique image without repetition. It will give any interior an unusual and intriguing look. Wallpapers with cacti in our collection can be found in two color tones: light, illuminating the interior and dark and contrasting climate.