Canvas prints street art
Although street art was not recognized by art critics for many years, it finally found its place among classic and modern works. Certainly the most famous representative of street art is Banksy. He is an artist who does not show his face, but is famous all over the world for his involvement in current political and social issues.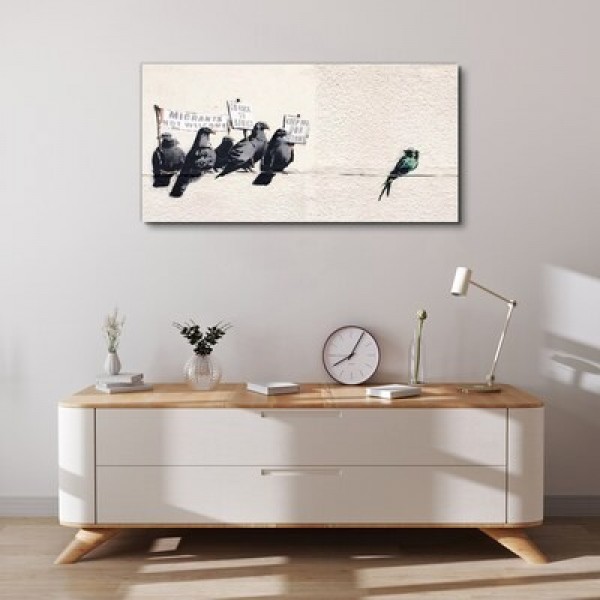 Art accessible to everyone
If we look at classical paintings, Banksy is a very original artist. This is because he creates most of his works on walls, and places accessible to the eyes of random passers-by. His paintings comment on current social, political, war and contemporary cultural events. It's street art involved, not just decorating walls with pretty pictures. This is also the reason why Banksy's and other street artists' works, in most cases, cannot be bought. Sometimes they are painted over or destroyed after just a few hours. Besides, they are meant to be seen by all passers-by, not just exhibition participants or gallery visitors. It is egalitarian art, accessible to people who are not normally interested in similar subjects and are not interested in classical or modern paintings. Street art, by its very name, is art that is seen on the street.
Street art at home
We have prepared a collection of paintings in street art style. These are not only Banksy, but also other artists, who never created on the street walls, but from time to time brought this style to the canvas and easel. These are expressive works with a very clear and open message. They are eagerly sought after by teenagers who are looking for original decorations for their room. They are also popular choices among people who enjoy modern art that goes far beyond the walls of museums and galleries. Canvas prints can be matched as best as possible with the interior design and other wall decorations that are already in the room. Moreover, they look much more modern than works framed in a typical frame.
Also, check street art prints on glass.