Indian tile decals
Time for changes in your home! Tile stickers provide a modern and original look to the walls in any space. The variety of designs will make them suit all decor styles, from modern to more traditional. Stickers on the tiles are a clear and aesthetic element of any arrangement, they become a visible point in any space.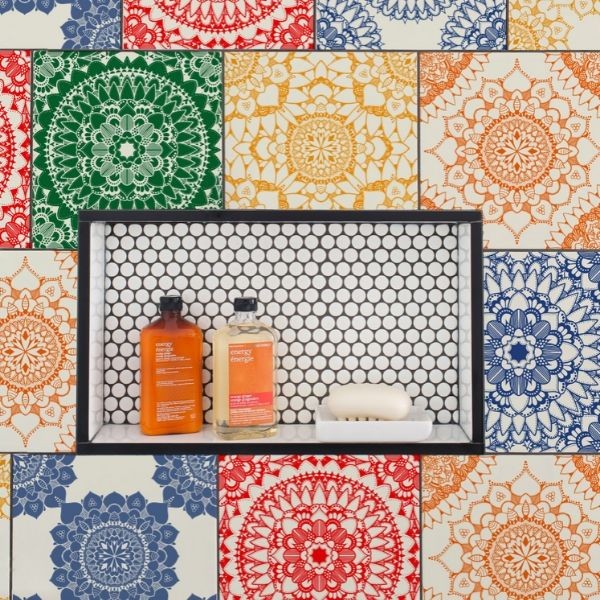 Cover ugly and aged bathroom and kitchen tiles with our self-adhesive Indian tile decals collection. This original and increasingly popular way of metamorphosis of four walls will give each interior a unique character thanks to excellent and interesting designs. Use a set of stickers on the tiles, and you will forget about long renovations, clutter and high renovation costs. Indian tile decals are a great way to give your tiles a distinct presentation, full of color and unique designs. If you like intense, warm patterns, then the sticker style in this collection will perfectly suit your tastes. Bring this wonderful colorful composition to your home quickly and easily! Thanks to our Indian tile stickers, colors such as red, orange, yellow and green will stay in your kitchen and bathroom. The Indian style is characterized by the accumulation of contrasts and shapes. This combination will look great on the kitchen and bathroom's panels.
Indian tile decals will help you get rid of boring walls and create a warm, friendly and joyful space. Get inspired by our collection and open yourself to new possibilities! Everyone will find something for themselves in our collection. Find your perfect pattern and enjoy the modern arrangement. Our Indian tile stickers are printed on the self-adhesive material that will allow them to be repeatedly applied. The durability of the sticker material means that they will not be damaged when they are removed. Thanks to this, if after some time you think about another change in the appearance of kitchen or bathroom tiles, you will be able to take the old ones off easily and choose another interesting and unique theme from our collection. The versatility and attention to the detail will allow our removable Indian tile decals to match any modern and classic arrangement.