Coastal nautical wallpapers
Ahoy there mate! Become the captain of your own ship and discover the wonders of the great blue sea by choosing one of our amazing marine-style wallpapers. Watch the sailboats glide gently next to you, listen to the waves roll ashore and feel the salty air rustling your hair as you stroll along the beach.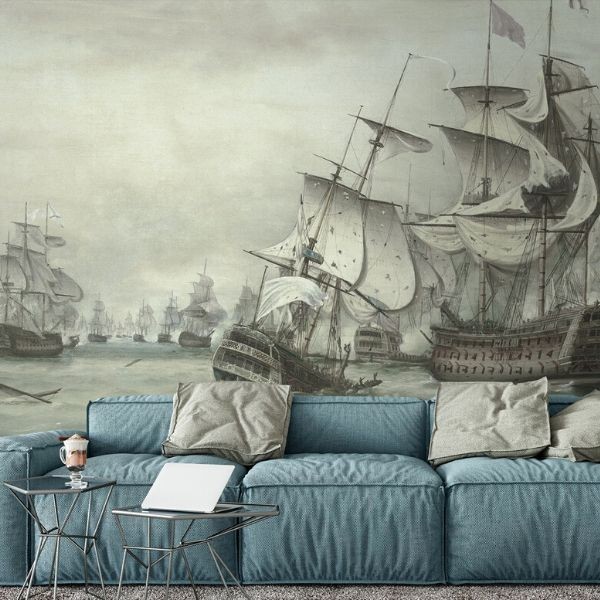 Vintage
Art deco
Abstract
Scandinavian
Victorian
Retro
Industrial
Boho
Classic
Ethnic
see all
Colonial
Contemporary
Modern
Provencal
Shabby Chic
Coastal / Nautical
[results: 16]
Coastal nautical wallpapers
The maritime atmosphere in the interior
Look through the water at the glowing lights, straight from the lighthouse. Find your perfect spot at the seaside port and watch the ships arrive and depart. Collect shells, starfish and sand along the coast. If you don't love anything more than an eventful day at the seaside, why not bring this joyful feeling into your home thanks to the stylish marine themed wallpaper. Our range of nautical designs is perfect for different types of rooms, especially for a fresh bathroom. It includes idyllic beach scenes as well as more fun marine themed designs. The light and fresh color palette used in our projects, such as cool blue shades and other soothing shades, will help create a relaxing space where you will spend time with pleasure.
Sea-style wall murals - awaken your adventurous spirit
Browse our large collection of marine wall murals with lighthouses, anchors, shells, birds, beach umbrellas, flip flops, marine life and more! You will definitely find a sea adventure and a sea mural that will capture your adventure spirit. Choose from our extensive photo library or upload your own image to create this unique graphic design for your home or business. Our easy installation guarantees ease and success with every purchase of a new wallpaper. Satisfaction guaranteed!