Wall mirrors
Discover our wide range of wall mirrors, ideal for use in the bathroom, living room, bedroom or hallway. Our collection includes mirrors of various shapes, such as round, rectangular, square, irregular or semicircular, that will meet all your expectations. In addition, a large selection of sizes is available, which allows the mirror to be perfectly matched to any space. With us you will discover how mirrors can change interiors, adding depth and unique character to them. Do not wait, check what we have prepared for you and find the perfect mirror for yourself that will bring a bit of magic to your home!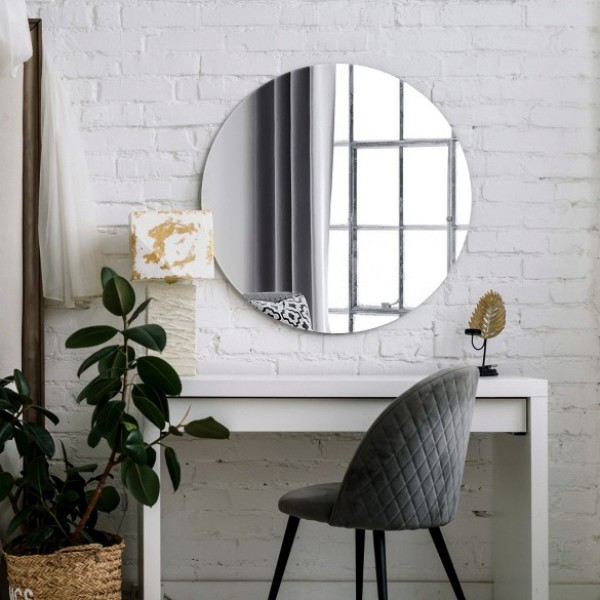 White and Black Framed Wall Mirrors for Stylish Interior
If you are looking for a wall mirror that not only serves its practical purpose but also adds a touch of elegance to your interior, our collection of white and black framed mirrors is just what you need. These decorative mirrors with minimalist MDF frames are perfect for those who prefer a simple yet stylish design. A white-framed mirror is a great addition to any bright and airy interior. It can make the room appear more spacious and complement the light colors on the walls. On the other hand, a black-framed mirror can add depth and contrast to a room with a darker color scheme. Both colors are versatile and can match any style or theme of your home decor.
The frame of the mirror can also be used to decorate your walls. By hanging multiple mirrors with different shapes and sizes, you can create a stunning gallery wall that will add character and dimension to any room. You can also experiment with placing the mirrors at different angles or heights to create a unique and personalized display. If you prefer a more modern and minimalistic look, our frameless wall mirrors are a perfect choice. These mirrors can make a small room appear larger and brighter while also adding a touch of sophistication. They are also easy to clean and maintain, making them a practical choice for a bathroom or bedroom.
At our store, we offer a wide range of wall mirrors that are not only functional but also aesthetically pleasing. Whether you are looking for a round or rectangular mirror, with a frame or without, we have something that will suit your taste and interior. Explore our collection now and find the perfect mirror that will transform your space!
Stylish and Functional Wall Mirrors for Every Space
At our store, we offer a wide selection of wall mirrors that come in various shapes and sizes, ensuring that you'll find the perfect one for your space. From rectangular to round, from irregular to teardrop-shaped, we have it all. Our mirrors are not only functional but also stylish, adding a touch of elegance to any room. Rectangular mirrors are perfect for spaces that require a clean and modern look. They are ideal for hanging over a dresser in the bedroom, above a console table in the living room, or in a hallway to create a sense of depth. On the other hand, round and oval mirrors have a softer, more organic feel, making them perfect for spaces with a more traditional or vintage design.
For a more unique look, consider irregularly shaped mirrors that come in various geometric designs. These types of mirrors can add an artistic touch to any room and make a statement as a focal point. Teardrop-shaped mirrors, in particular, can add a touch of glamour and sophistication to any space. If you're looking for a functional mirror that also doubles as a design element, our mirrors with LED backlighting are a perfect choice. These mirrors are perfect for bathrooms or dressing areas, as the soft, warm light provides a flattering glow. LED-backlit mirrors can also add a touch of modernity to your space.
No matter what your space or design style, our collection of wall mirrors has something for everyone. With a wide range of shapes, sizes, and features, you'll be sure to find the perfect mirror that not only reflects your image but also reflects your personality. Browse our selection now and elevate your interior design game!