Birds wallpapers
Birds are the perfect symbol of freedom and perspective. Because they fly high in the sky. They are like Light Workers - they often tell us that they are messengers of the Gods who provide people with a bridge between everyday and spiritual life. Perhaps for this reason, the Ancients developed ornithomania, or the art of divination by observing birds by species, color and movement of the bird.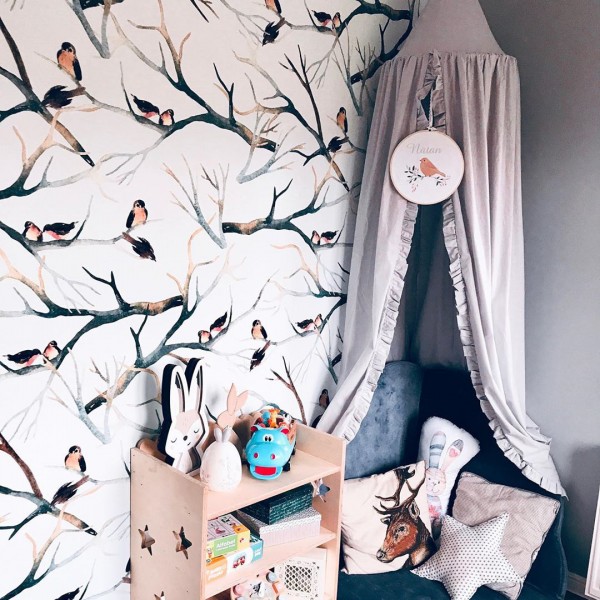 Baroque
Eclectic
French
Glamour
Japanese
Contemporary
Colonial
Retro
Victorian
Vintage
see all
Classic
Scandinavian
Shabby Chic
Minimalist
Modern
Ethnic
Country
Art deco
Abstract
Rustic
Provencal
English
Boho
Oriental
Wallpaper with a bird theme
Birds have been around people forever. Do you remember the bird that brought a branch to Noah's Ark? Birds reflect strong symbolism. They encourage us to set high goals and achieve our goals, despite the challenges we face when chasing these dreams. They can also be a motivation to deepen the spirituality even more. Like the Hindu belief in dogs as messengers from the underworld, birds are considered ambassadors of the spiritual world. They embody peace, conversion, freedom and strength. Some birds may represent good divination, some unfortunately not. Therefore, by choosing the right theme for our wallpapers, we checked what birds bring happiness.
Get rid of boredom - decorate the room with a wall mural with birds
Our wallpapers represent a wide range of birds in different styles, so everyone will find something perfect for themselves. We offer wallpapers with a photorealistic representation of life-size birds that are great as a living room decoration. We have delicate wallpapers with birds in pastel colors and with a delicate drawing line, which are perfect for children's rooms, as well as wallpapers with ethnic bird designs that will perfectly match the interior in the country or English style. In contrast, simple - contrasting wallpaper with feathers will perfectly complement the minimalist and modern interiors. There will also be intense and colorful wallpapers with a boho style bird theme, as well as mild and subdued wallpapers featuring birds in a classic Japanese style that works well in neutral and feminine spaces.