Black and white stair decals
An interesting decorative element are stair decals. Among the many ways of decorating the interior, they are one of the simplest and fastest methods to give a room a distinctive look. If the entrance to the bedroom or office seems bleak and anyhow, you see that your stairs lack an interesting accent, then thanks to our stickers you can easily change your room giving it an original look.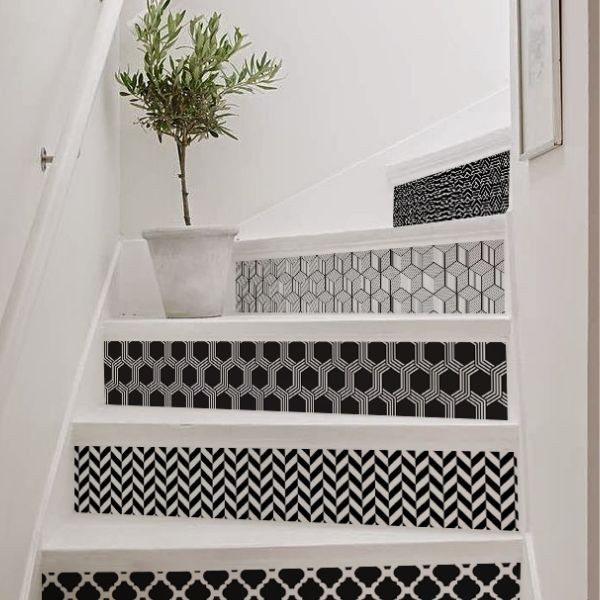 Black and white
[results: 4]
Black and white stair decals
These decals are a really smart solution that will allow you to modify the entire interior with minimal effort and a modest budget. This method of decoration has been very popular for some time.
Black and white stair decals
are one of the most popular designs. Black and white are a timeless combination. The play of these colors brings out shapes and highlights what is the most important. This combination suits any interior, giving it elegance and style. This duo is ideal for people who like
minimalist and Scandinavian arrangements, but will also appeal to those who want to add a bit of glamor atmosphere in their rooms
. Our black and white stair decals are a combination of two contrasting colors with another equally interesting and popular motif. I am talking about a geometric pattern here! Classic geometry can become a subtle background to an interesting interior.
Delicate shades of geometric patterns are perfect for those who prefer a calmer look in the room, but still love interesting designs. These stickers will be an ideal addition to the stairs leading to the bedroom, bathroom or attic. They will also look good in company buildings placed on the stairs leading to the office rooms. They will perfectly match the accessories in light and dark colors which will give the interior a lot of elegance and aesthetics. Black and white stair decals will fit perfectly into spaces decorated in any style! This decorative element will wonderfully emphasize the uniqueness of each arrangement. The theme will undoubtedly appeal to anyone who is looking for something original and modest in classic colors. Thanks to it you will surely surprise your friends and family. You will undoubtedly refrain from asking: "How did you do it?".