Pattern wallpapers
Dots, squares, stripes, flowers, palms, abstractions - in interior design you can find everything! Such interesting designs are an integral part of furniture, fabrics and walls. These varied shapes cannot be missing in classic or modern interiors. Get inspired by our wallpapers and stimulate your creativity!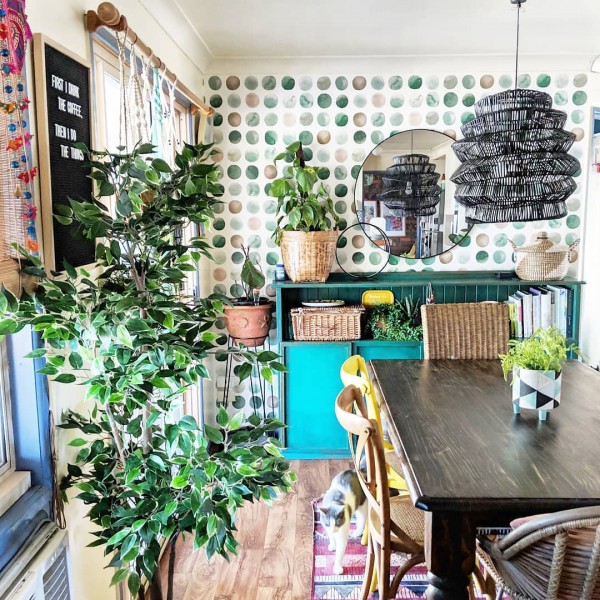 Retro
Oriental
Country
Art deco
Minimalist
Classic
Baroque
French
Abstract
Glamour
see all
Victorian
Rustic
Eclectic
Provencal
Shabby Chic
Scandinavian
Modern
English
Boho
Japanese
Contemporary
Industrial
Vintage
Ethnic
Colonial
Wall murals with the most fashionable patterns
Among our collection of
self-adhesive patterns wallpapers
everyone will find something for themselves. Choose the perfect theme for you, thanks to which you will quickly enjoy a wonderful, modern arrangement. See how easily you can change a simple and unattractive room into a
stylish
and fashionable place to relax or work.
Removable patterns wallpapers show how limitless creativity is and the desire to transform even the simplest thing into an original decoration
.
Colorful
, subtle, minimalistic or contrasting, our custom-made wallpapers will look great in any interior. They will work perfectly in modern arrangements, but also will be a great addition to rooms with
boho
vibrations and where classic
Vintage
dominates. Peel and stick patterns wall murals can become a central decorative element - which catches the eye immediately after entering the room - or simply a great background, thanks to which we will emphasize the expressiveness of furniture and accessories.
The versatility of motifs makes removable patterns wallpaper perfect for any apartment
. How to incorporate our wall murals into your home? It's not so hard! When designing the interior, choose accessories that will harmonize well with the theme or color of patterns wallpapers as a result you'll get an interesting and eye-catching design.
Choose a photo wallpaper design to give your interior a new style
For apartments inspired by a
romantic style
, choose a subtle, pastel pattern, while the vintage style can work better with colorful theme. Raw,
monochromatic
,
geometric
inspirations should perfectly match industrial and modern arrangements. In addition, many of our
peel and stick patterns wallpapers, due to their simplicity and color scheme, will be a good choice for a children's room
. Self-adhesive patterns wallpapers are an extremely simple way to decorate the
living room
,
bedroom
, children's room or hallway. This modern method of room metamorphosis, thanks to its unique design - the use of waterproof material - will also look great as a kitchen or bathroom decoration. As our wall murals are famous for their ease of installation, you will forget about long, tiring renovations and clutter. Self-adhesive material from which they are made of will allow you to peel and stick them repeatedly (without damaging the wall!). Bet on modernity and originality during the transformation of your home and give your room a unique character, thanks to our wonderful and interesting designs.