Canvas and glass prints for the office
Office décor stopped to have a raw interior and only the necessary furniture and equipment. Nowadays, the focus is on a space where you simply want to be, and the result is a more pleasant and efficient work. Paintings for the office are certainly an aesthetic addition that help to create a nice atmosphere that makes everyone feel good.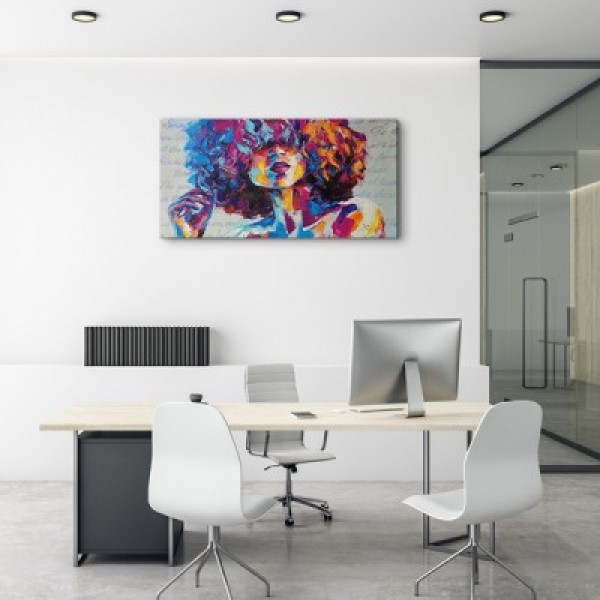 Canvas and glass prints for the office
Perfect pictures in every office
Whether you run a creative agency or an accounting office, images can make your work more efficient. How? Keep in mind that the environment you are in for many hours a day has a huge impact on your psyche and mood. This directly translates into the way you work, and if you are willing to take on new challenges. A great computer and a comfortable chair are no longer enough. What also matters is how the interior looks and how it affects the psyche of the people in it. Paintings in an office should be placed not only in a director's or decision-maker's office. It is also a decoration that should be placed in every other room. The choice between a canvas print and a glass print allows you to match them with the rest of the elements in the interior. Remember that paintings for an accounting office do not have to be very subdued or conservative. However, it is worth adjusting the subject matter to the character of a place where it will be placed. All landscapes and abstract motifs are universal. They should not be in too intensive, flashy colors - so as not to distract your eyes while working and not to make you distracted, when performing tasks required for concentration.
Paintings for home office
Since we're talking about offices, do not forget the ones that are located in our homes. Many business owners and those who are self-employed create a space for themselves that is fully dedicated to work. This allows you to separate your home space from your work space, which is extremely important if these spaces are directly connected. So don't look for paintings that are exactly the same style as the ones you have in your living room or bedroom. Try to make your workspace comfortable, but at the same time, allow you to remember that it's a space where you don't bring home duties. This should work the other way as well. If you're leaving the office and coming home after work (even if you go from your room to the living room), you should feel like what's related to your work responsibilities has been left outside the room. Take this into consideration and decorate your home office to help you transition seamlessly from one world to another. We are sure that you will make the right choice with our diverse range of office pictures.