Leaves wallpapers
Bring nature to your home with our selection of wallpapers with leaf patterns. From classic flowers to eccentric forest prints, this motif draws inspiration from nature and works with existing furniture and decorative elements to create a fresh climate in any room. Amazing themes inspired by nature.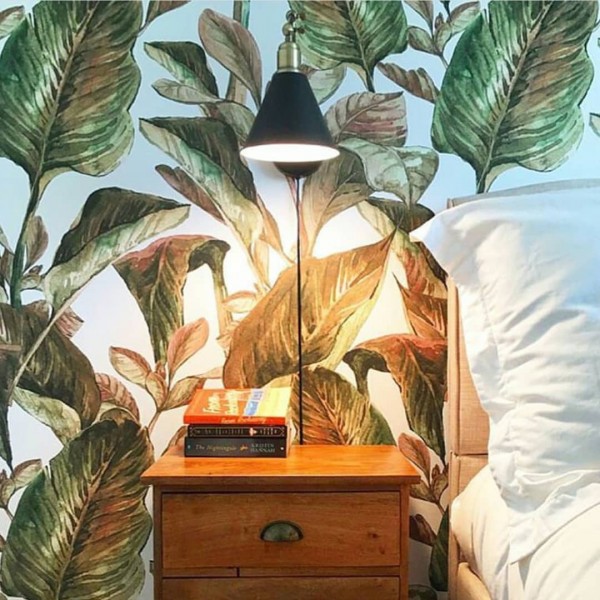 Classic
Baroque
French
Abstract
Victorian
Glamour
Rustic
Eclectic
English
Provencal
see all
Shabby Chic
Scandinavian
Modern
Japanese
Boho
Contemporary
Industrial
Vintage
Ethnic
Oriental
Colonial
Retro
Country
Art deco
Minimalist
Wall murals with large leaves - be closer to nature and the tropics
If you're looking for a traditional look, you're in the right place. Wallpaper with palm or bamboo leaves is the perfect pattern for any interior. Classic neutral shades or calm shades of blue, gray and green wallpapers add their royal look and act as a decorative wall in your living or dining room. Find contemporary style in palm and banana leaf wallpapers. Large repetitive patterns in shades of green are a fashionable look that will refresh the teenager's bedroom, and wallpapers with the motif of leaves and birds in cute pastel colors are the perfect choice for a children's room. In contrast, photorealistic wallpaper with a tree is also a great choice for any bedroom - with shading for a realistic effect that makes an amazing impression.
Extremely decorative leaves will add greenery and tranquility to the interior
The leaf motif on the wallpaper will never get boring and on the contrary will enliven your space. Our wallpapers will add a touch of color and will blend in perfectly with any type of decor. You can use our botanical wall murals on the original and innovative self-adhesive canvas, which we call MagicStick technology. If you are looking for an easy solution that will change the appearance of the walls and the decor of the room, then you are in the right place! Our wall murals and wallpapers are extremely easy to install and can be easily removed if needed.