Canvas prints with mountains
Landscapes with a mountain view give an incredibly relaxing impression. The space, nature, and majesty of mountains make it pleasant to look at and stay in their surroundings. Motifs of mountains are present in many of our paintings. We have made sure that a variety of styles, colours, and themes are available.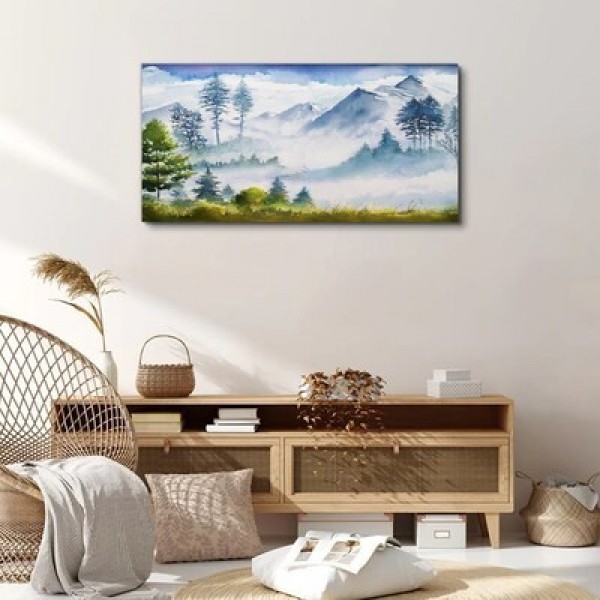 Canvas prints with mountains
Wall paintings - mountains
If you are looking for a wall decoration that will optically enlarge a room and give the impression of space, the mountain landscape is the suggestion for you. You have many options to choose from. If you like Japanese minimalist graphics, reach for mountain landscapes in this style. They perfectly match the modern interior design. We also have impressionist reproductions, where mountains are filled with lots of colours, shades, and light reflections. Of course, there are plenty of our native views. If you are looking for something less obvious than photographs, choose a painting printed on canvas. The Tatra Mountains in such an edition still delight, and at the same time allow you to commune with high quality art.
Mountain landscapes for children
If you are a mountain lover, you certainly want to share your passion with your child. Mountains in the children's room? We say yes! Choose colours which will harmonise with the colours in the interior, and see how amazing the effect is. The landscape will stimulate your child's imagination, and maybe it will develop a passion for climbing mountains! Decide, which picture fits best. Canvas stretched on the frame is characterized by excellent quality and reproduction of details. Dust and dirt are wiped off without any problem. Therefore, it is not only an aesthetic, but also a practical choice for a toddler's room, living room, or bedroom.
Also, check glass prints with mountain motifs.