Dots wallpapers
Dots, circles, eyelets, polka dot, clothes, ovals all this and more! Which dots will you choose? Polka dot wallpapers can make a real sensation if it allows them. With all the important variety, cheer up, he learns a more friendly and cozy space in every room. Collect to surprise, arouse the interest of guests and captivate with crazy design.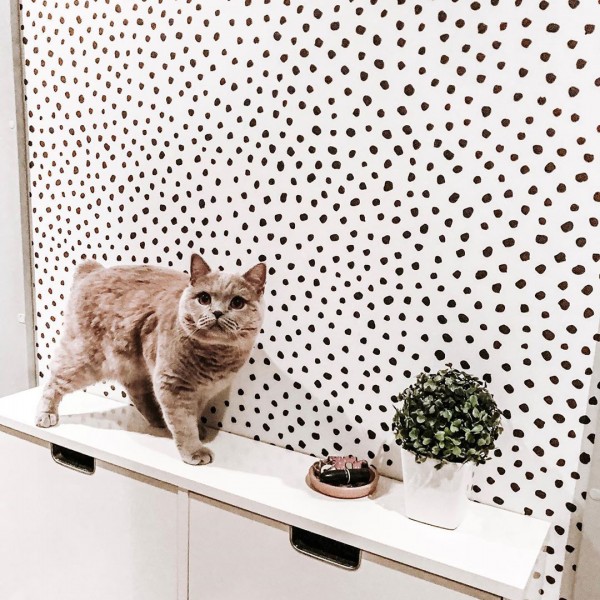 Modern
Japanese
Art deco
Shabby Chic
Glamour
Rustic
Abstract
French
Contemporary
Oriental
see all
Colonial
Industrial
Eclectic
Ethnic
Country
English
Boho
Vintage
Minimalist
Retro
Scandinavian
Classic
Original dot patterns will work well in almost any interior
The dots have gained in the latest in the last few years. Dots wallpaper is often associated with the decoration of children's walls or playrooms and kindergarten rooms, but it can also be available as an option for the living room or bedroom for adults, if chosen and styled with the help of sophisticated and tasteful furniture and accessories. Less obvious droplet patterns resembling a starry sky or galaxy are fantastically proven as intense living room accents. They consist of dots and ethnic patterns and mandalas are great for boho style apartments. Bah! The dots match perfectly with every style: modern, minimalist, Scandinavian and even Provencal, all you have to do is skilfully rip them with the rest of the space!
Polka dot wall murals made in two technologies
Therefore, do not be afraid to reach for them! Each of these wallpapers is different even though each is in dots. We offer our wallpapers in two technologies - classic wallpaper and MagicStick technology, which allows you to unstick wallpaper and move it to another place. Thanks to this, you can take your wallpaper to any other place, even changing the apartment. Therefore, do not hesitate and order today an unusual wallpaper that will captivate all your friends!