Frameless mirrors
Immerse yourself in the minimalist world of frameless mirrors, where restrained grace meets streamlined elegance. A touch of timeless sophistication, our frameless mirrors are a must-have, adding brightness, creating an illusion of space, and enhancing your home's overall aura. From semi-circular to teardrop designs, our varied selection satisfies diverse tastes and preferences, also including LED-illuminated variants. Experience the astounding metamorphosis these mirrors introduce into your space.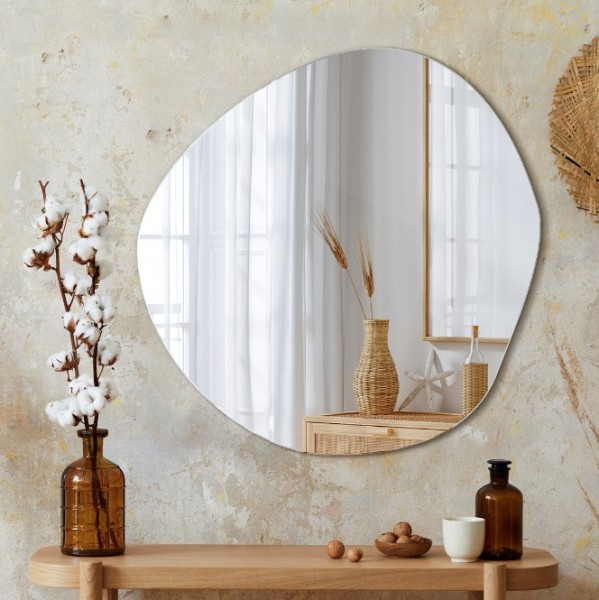 Frameless mirrors
[results: 12]
Our frameless mirrors are much more than functional elements. They are a testament to contemporary design, infusing any space with a refined and sleek appeal. Unveil the charm of frameless mirrors today.
Semi-circular mirrors exemplify understated elegance. Their simple, sleek design infuses modern minimalism into any space.
Oval frameless mirrors are a perennial favorite. Their smooth, lengthened shape injects an air of grace and refinement into any interior.
Square frameless mirrors provide a crisp, geometric ambiance. They are the ideal touch for modernizing your home décor.
Rectangular frameless mirrors are adaptable and functional. They seamlessly integrate into any space, adding dimension and amplifying natural light.
Asymmetrical frameless mirrors offer a contemporary, avant-garde choice. These statement pieces contribute a distinctive charm to your home.
Teardrop frameless mirrors are sophisticated and current. Their unique form injects intrigue and flair into any room.
Each frameless mirror variant is available with customizable LED lighting options. Choose your desired light tone - warm, cool, or neutral, to perfectly complement your décor and mood.
Embrace the enthralling fusion of utility and style that our frameless mirrors offer. Allow these mirrors to brighten your home, enlarge your spaces, and infuse your decor with sophistication. Step into a transformative journey with our collection of frameless mirrors - it's more than just catching your reflection; it's about mirroring your distinct, refined taste.