Glass prints
Glass paintings have become an interesting alternative to those printed on canvas. You can successfully use them in any room of the house. They look great in the living room, kitchen, and even the children's room. Various colors and themes allow you to match the design with the interior decor and style.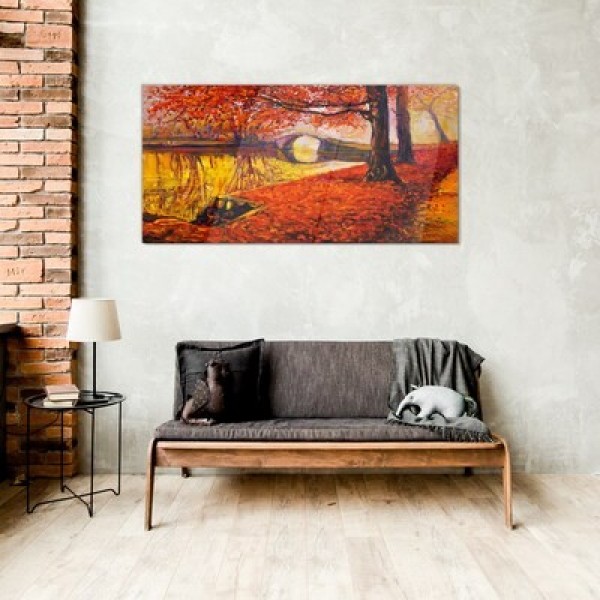 Photo images on glass in your home
In modern interiors people reach for glass wall decorations, thanks to which they get many choices. It concerns the style in which the picture is prepared as well as its theme. We have made sure that our customers can reach for a picture perfectly suited to their taste and sense of aesthetics. Thus, in several categories you will find what you are looking for. Paintings with animals show how diverse the world of fauna can be. In beautiful graphics you can see wild animals, dogs, horses, cats, and even cows living close to people, inhabitants of the underwater world, birds, and many other creatures. If, on the other hand, you are a painting lover and you opt for wall reproductions, we also have an extremely rich offer for you. Would you reach for a painting printed on glass with a work by Monet or Rembrandt? For the lovers of Japanese graphics we have prepared prints with woodcuts by Hokusai Katsushika. And what about an image printed on glass with a reproduction of the most famous street art works, such as Banksy? Such works perfectly reflect what is depicted in the original, and at the same time, you can financially afford to have them in your own home.
Glass wall pictures with nature motif
Landscapes and plants are a very popular theme in the context of interior design. They are characterized by timelessness and universality. You will place them in any room, matching a particular motif and color scheme to its purpose. Any wall paintings that feature water are a good choice for a bathroom. You have many options - rivers, lakes, waterfalls, seas, and others that bring the topic in different ways. Any view with meadows, forests, and mountains is also extremely relaxing. You will find a painting for home with minimalist graphics in Japanese style, as well as spectacularly lush nature in many colors. We did not forget about humans who can also be an inspiring subject of wall decorations. Therefore, in coloray.co.uk we have prepared subtle portraits as well as sophisticated nudes. Nice paintings not only decorate, but also inspire house residents. If you have your favorite style, take a look at the categories presenting the most characteristic and popular ones.