Lemon wallpapers
Unique and fun lemon-themed wallpapers will liven up the interior, while subtle uniform backgrounds really let the lemons pop out and create the WOW! Effect. Yellow is definitely a good choice for the interior, if you want to create a warm and friendly environment, and lemons will certainly encourage a joyful atmosphere wherever they are.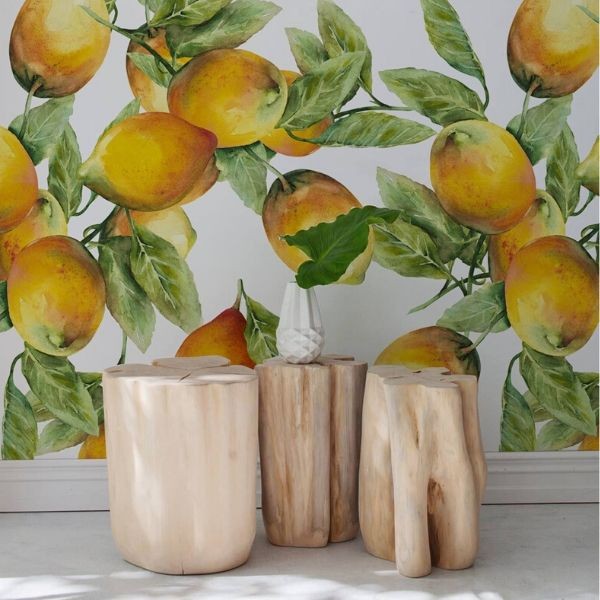 Country
Vintage
Modern
Art deco
Scandinavian
Contemporary
English
Shabby Chic
Abstract
Eclectic
see all
Boho
Classic
Retro
Liven up the interior with a wall mural with lemons
Sunny, yellow lemon is a strongly refreshing ingredient and is immediately recognizable by everyone. It has been used in many ways around the world, including to increase vitamin C levels in diets, as a component of many fragrances and as a component of uplifting blends of essential oils. Lemon has become a symbol of many - sometimes contradictory - ideas, depending on the cultural reference point. Sometimes it is considered a symbol of longevity, purification, love and friendship, and at other times it symbolizes bitterness and disappointment. Catholic tradition combined fruit and loyalty. Because it was imported costly to some countries, it also became a symbol of wealth.
Wallpapers with lemons will be perfect for your kitchen
However, no matter which side you want to look at it is simply yellow and joyful. Therefore, it will brighten any room and bring a bit of happiness every day! Our wallpapers will add a touch of color and will blend in perfectly with any type of decor. You can use our wallpaper on our original and innovative self-adhesive wallpapers in the MagicStick system. If you are looking for an easy solution that will change the appearance of the walls and the decor of the room, then you are in the right place! Our wallpapers are extremely easy to install and can be easily removed if needed and moved to another place!