Floral tile decals
Our self-adhesive decals, including floral tile decals, are a quick, easy and cheap way to transform kitchen and bathroom walls. Change your monotonous and boring tiles to beautiful, colorful and stylish decorations.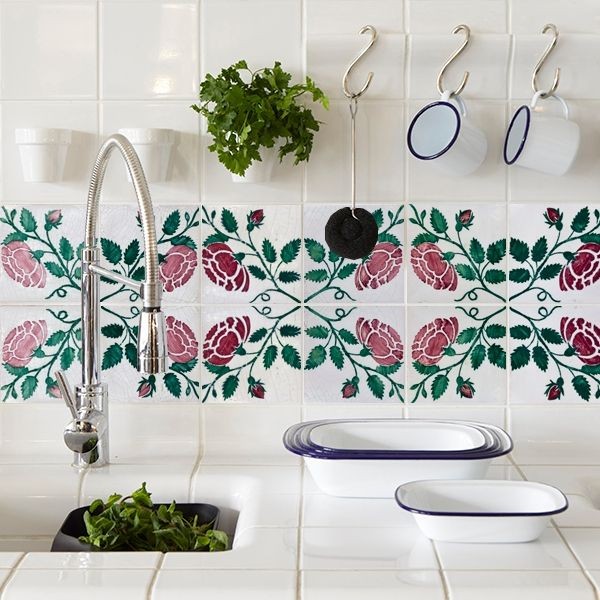 There are various methods for interior design and decoration. Just as there are self-adhesive stickers for furniture, thanks to which you can wonderfully renovate e.g. kitchen fronts, among the decorative elements you can also find specially designed decals for ceramic tiles. If they are correctly placed on old tiles, they will give the impression of new, and your bathroom or kitchen will illuminate with a fresh glow. Thanks to the fact that they are made of high-quality, water-resistant material, you won't worry about getting them dirty or damaged. The material we use is resistant to stains and tears and will adhere to any flat surface. Floral tile decals will make existing tiles look a little bit color and look like new. They will look great on kitchen and bathroom panels. Thanks to them, you will get rid of boring walls and create a warm, friendly and joyful room.
Get inspired and stimulate your creativity! Everyone will find something for themselves in our collection. Find one pattern perfect for you and your family, thanks to which you will quickly enjoy a wonderful, modern arrangement. Self-adhesive tile stickers are a modern and intelligent solution that can completely replace painting and replacement of ceramic tiles, thus saving your time and work. Our beautifully decorated floral tile decals are all you need to give every surface a whole new look. Feel in your bathroom as on a meadow of beautiful, colorful flowers, while in the kitchen cooking among delicate floral motifs can become much more pleasant. Regardless of where you use the self-adhesive, removable tile decals, you can create the illusion of remodeling the entire room in minutes.