Cats wallpapers
When it comes to symbolism, cats are symbols of rebirth and resurrection in a lifetime of nine. Because they are nocturnal, they are also associated with darkness. Darkness often accompanies fear, unconsciousness and hidden things. Cats are also symbols of mystery and magic, but also of unpredictability and even healing.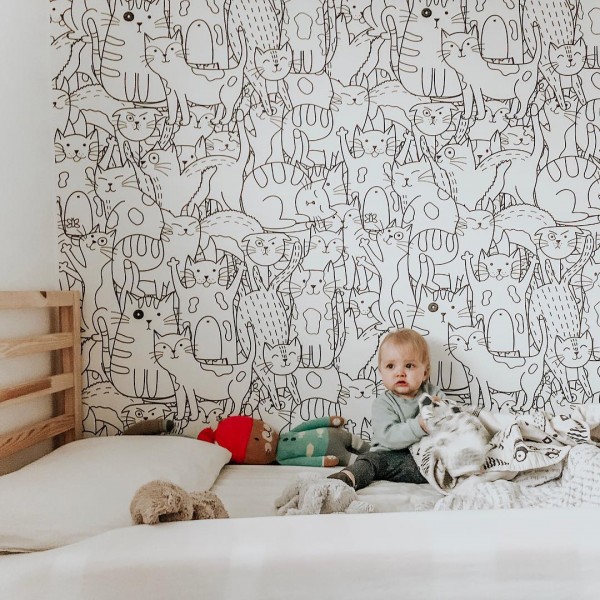 Modern
Art deco
Scandinavian
Classic
Abstract
Contemporary
Retro
French
Japanese
Shabby Chic
see all
Vintage
Minimalist
Do you like cat motives? We have something for you!
In general, the cat is marked by patience, independence, curiosity and courage. The cat is a very spiritual animal, known for its ability to wait and act only in the required time. Since ancient times they have been adored by some, hated by others. Therefore, you should stick to their importance of the duality of high school-leaving exams. It is also said that who is significant, who sees two worlds - both real and spiritual. Therefore, it should be recognized that he is an animal with mysterious knowledge - wizards and witches. Nowadays, however, cat symbolism is slowly evolving, just as domestic cats have evolved from wild cats.
Toddlers will love this wallpaper with cats
When designing our wallpaper with a cat theme, we follow the principle that a cat for an animal with different faces, which is why we created a series of wallpapers in which each is different - so by all the cat's calculations found in its own reflection. In our offer you can introduce a wide range of wallpapers with a cat theme. Among them are funny - comic drawings of cats that match two for a children's room, as well as a room for a "big child" in love with these evil children. We also have wallpapers depicting wild cats, which will add claw equipment inside. Available simple and minimalist cat designs checked in equally minimalist interiors. Thanks to this, every admirer of purring furry fluid balls will find something perfect for themselves.