European tile decals
Self-adhesive, removable vinyl stickers for tiles have been around for a long time, but it may be surprising that in a short space of time a huge range of their colors and patterns appeared, many of which were designed to imitate much more expensive. This is great news for anyone with a limited budget, because stickers on tiles, i.e. our European tile decals, are particularly budget-friendly and, at the same time, easy to assemble yourself.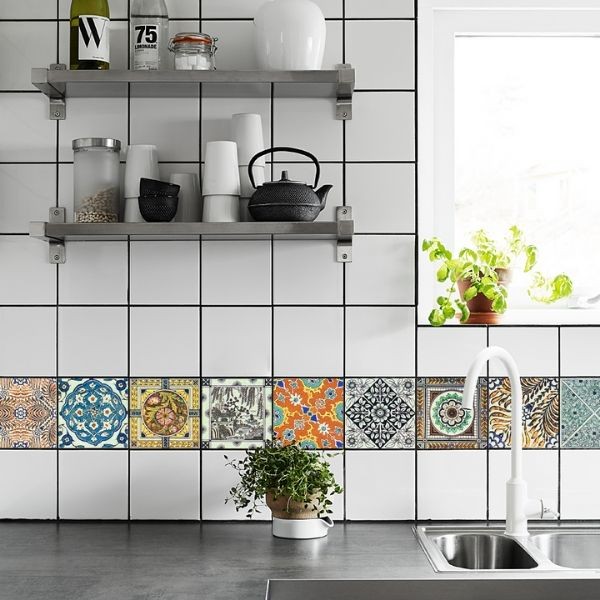 Such a large number of motifs in various shades of color is, of course, the result of inspiration from cultures and traditions from all around the world. Our
European tile decals
have been designed on the model of wonderful,
various European styles
. Here you can find patterns in the Spanish style, who loves bold color solutions and loves strong accents of red and orange, Portuguese azulejos, whose complex geometric and floral motifs in white and blue colors can become a luxurious and intriguing decorative element in your home. There are also those inspired by Italian, elegant and luxurious design, which is not afraid of modern colors, rich ornaments and dynamic forms. We also have something for minimalists who like subdued colors and simple designs.
And so functional, practical, inspired by nature, Scandinavian style can appear on your kitchen or bathroom panels today. Our European tile stickers are a European cultural mix. Bet on originality and choose a pattern perfect for you and your family, thanks to which you will enjoy a wonderful, modern arrangement. The unique design of our European tile decals will allow you to make a metamorphosis of your kitchen or bathroom, quickly and easily, without high investment. Thanks to them, monotonous and boring tiles will become modern and extraordinary decorations. Their original design means also that there will be no need to worry about getting them dirty or damaged. Tile stickers are a fantastic way to refresh your kitchen and bathroom panels.