Round mirrors
Welcome to our selection of circular mirrors, where classic charm meets contemporary elegance. Ideal for any setting, these mirrors wonderfully reflect the essence of your decor while brightening the room and creating a feeling of spaciousness. Available in different sizes, with or without LED illumination, our circular mirrors serve as a stunning centerpiece that unites utility and aesthetics. Seize this chance to introduce a dash of opulence into your living spaces.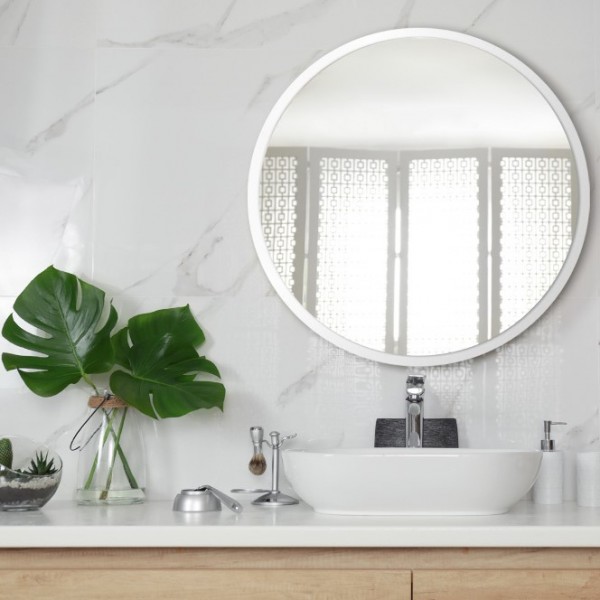 Round mirrors
[results: 4]
Our circular mirrors masterfully weave together function and design, bringing a dazzling enhancement to your home. Choose from a timeless traditional circular mirror or an LED-lit variant that adds an extra touch of sophistication.
Classic Circular Mirror: With their sleek, ageless outlines, our circular mirrors make a bold statement in any interior setting. Whether placed in the bedroom or bathroom, their graceful design promotes a calm and balanced ambiance.
Circular LED Mirror: Illuminate your surroundings with our LED circular mirrors. Perfect for daily tasks such as applying makeup or shaving, these mirrors provide optimal illumination conditions, adding a layer of convenience to your daily routine. The lighting warmth can be adjusted according to your preferences, further enhancing your user experience.
Our circular mirrors offer a classy and fashionable solution to your home decor needs. Be it for practical purposes or aesthetic appeal, you can never go wrong with these ageless pieces. Invest in a circular mirror today and witness the transformative impact it can have on your space!