Mirrors in white frame
Welcome to our outstanding assortment of mirrors with white frames, the epitome of understated charm and elegance. Available in circular and rectangular shapes, these mirrors are designed to harmoniously blend with any decor, whether it's modern or traditional. Our white-framed mirrors contribute to an invigorating, clean look, magnifying the light and openness of any room. Discover the transformative power of these adaptable mirrors for your living space.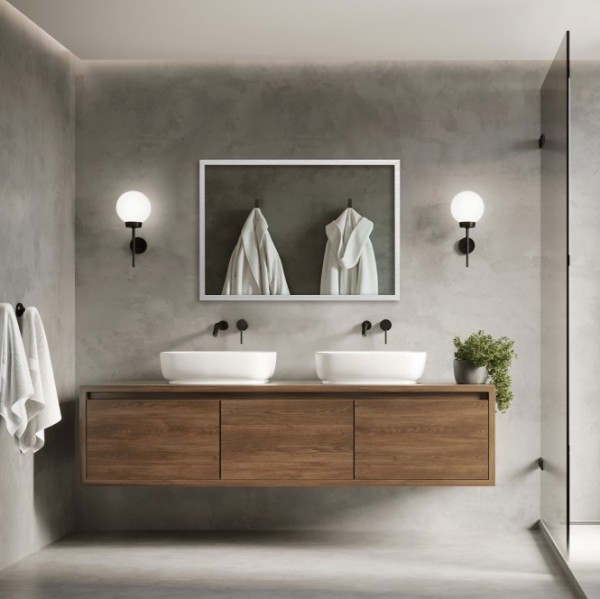 Mirrors in white frame
[results: 2]
Our mirrors with white frames introduce a refined elegance and a refreshing vibe to your environment. The modest hue of the frame combined with the mirror's reflective capacity creates a wonderful fusion of utility and aesthetics.
The white-framed mirror is a classic accessory. Its crisp, white frame brings a clean, refreshing aesthetic to any room, enhancing its brightness and spatial perception. These mirrors are a versatile choice, perfect for bathrooms, living rooms, bedrooms, or entryways, effortlessly adapting to any interior design and imparting an elegant flair.

The round white-framed mirror is a captivating piece, blending the gentle curves of its shape with the vibrant freshness of the white frame. This mirror enhances perceived room space while the frame offers a distinct contrast that allows the mirror to be a centerpiece. It's an outstanding addition to any room, capable of instantaneously elevating your space's aesthetics.

Discover the transformative potential of our collection of white-framed mirrors. Their ability to blend with any decor style makes these mirrors an investment in refined simplicity. Treat your home to the heightened brightness and sense of space that only our white-framed mirrors can provide. Today, indulge in the timeless charm and captivating allure of these pieces.